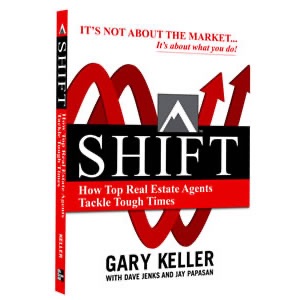 The real estate market has shifted drastically and dramatically. Sales volume and the number of transactions have dropped significantly. Inventory is at an all-time high and buyers are more reluctant than ever. Sound familiar? It should. It happened in 1979 and 1987, and today it's happening again across the United States.

To help real estate agents deal with these inevitable shifts, Keller Williams Realty International recently announced the launch of Gary Keller's latest book, SHIFT: How Top Real Estate Agents Tackle Tough Times (www.giftofshift.com). Written by Keller, founder and chairman of Keller Williams Realty International, and coauthors Dave Jenks and Jay Papasan, the book is drawn from the experiences of hundreds of top performing agents and outlines 12 tactics to surviving and thriving during a market shift.

Listen in on the conversation between coauthors Gary Keller and Dave Jenks as they discuss the 12 tactics detailed in the book and provide a refreshing, tactical vision for success in any market.

About the authors of SHIFT
Gary Keller and coauthors Dave Jenks and Jay Papasan have together written the national bestselling books The Millionaire Real Estate Agent and The Millionaire Real Estate Investor, and contributed to a third, FLIP: How to Find, Fix, and Sell Houses for Profit. SHIFT represents the latest book in this Millionaire Real Estate series, which has sold more than 1 million copies. In 2008, the three collaborated on a fourth title, Your First Home: The Proven Path to Home Ownership. Every week they interview top business people on their weekly online audio show, Business by the Book.

For more information on SHIFT or to purchase a copy of the book, visit www.giftofshift.com
Do you like this podcast? Vote for it!
Each month, a new podcast is selected as the best of the week. If you'd like this podcast to win, enter your email and click vote.