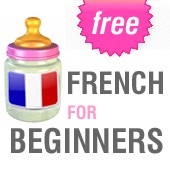 Learn French for Beginners with free podcasts, brought to you by French teachers from Paris. DailyFrenchPod is an amazing effective and new way to learn French, combining podcasts, learning guides, keywords, audio and PDF vocabulary sheets, grammar tutorials, and a large community of students and experts to practice with.
Do you like this podcast? Vote for it!
Each month, a new podcast is selected as the best of the week. If you'd like this podcast to win, enter your email and click vote.